The transportation and logistics industry has undergone a massive change with the introduction of artificial intelligence. After the pandemic, the adoption of automation is huge and helping with smarter digital transformations. The WTO is getting vocal about the introduction of AI technologies to help the transport and logistics industry to excel in a better way.
The use of top AI use cases in the logistics industry will help provide accurate forecasts on the movement of raw materials, predictive analysis for the movement of vehicles, and pre-information about the routes, weather, and forecast data.
Furthermore, AI can improve transport and logistics operations by enhancing the supply chain and customer experience.
5 Top AI Use Cases in the Logistics Industry
AI solutions in transport and logistics help with the targeted tasks by accomplishing the pre-planned approaches and processing accurately and faster. Also, it enhances solutions to solve the challenges occurring in logistics companies and transportation companies. Some of its use cases are as below.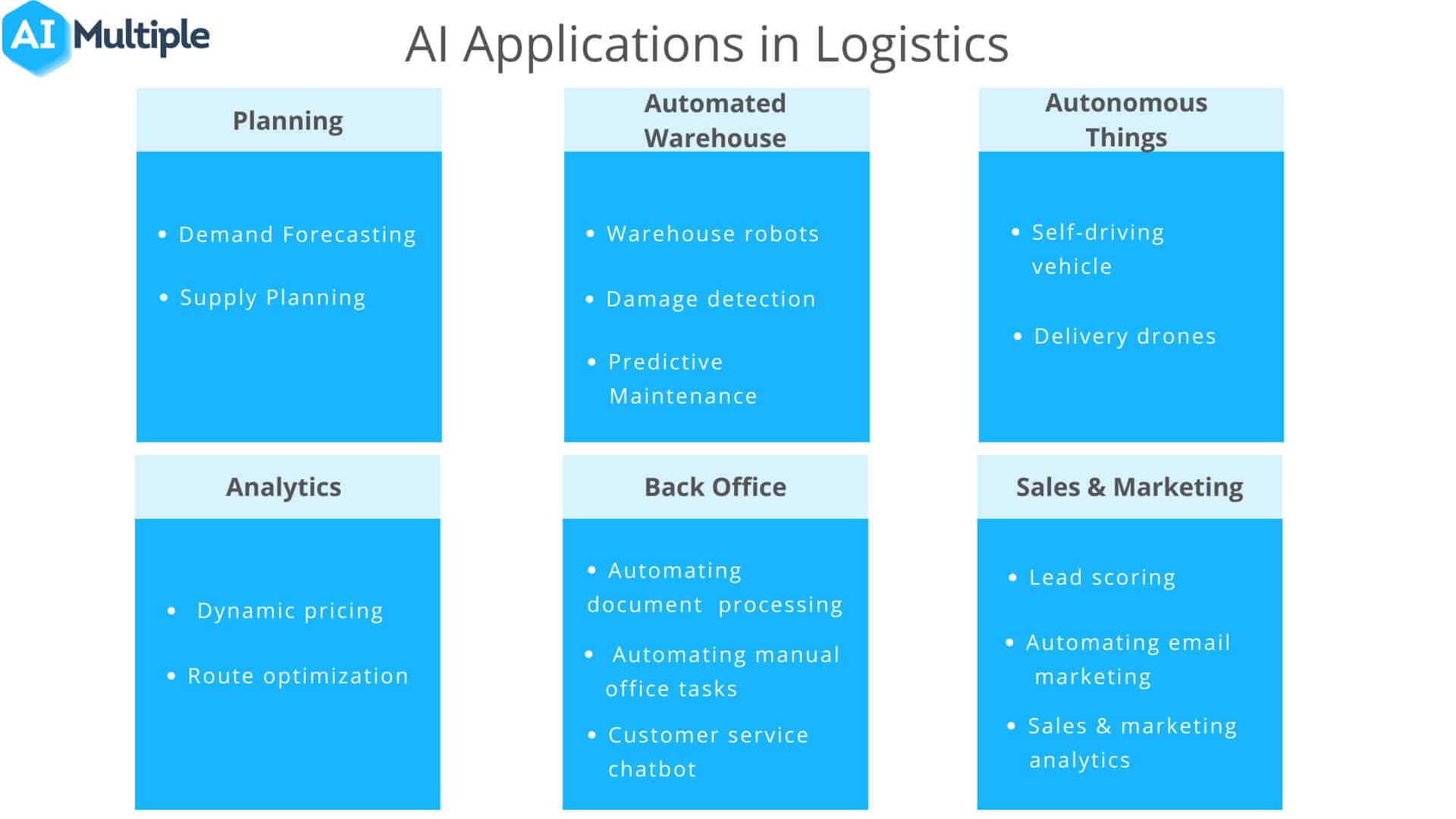 Benefits of AI in Transportation and Logistics
Many established organizations are leveraging the power of AI and improving their logistics operations. Here are a few benefits of AI in transportation and logistics.
By leveraging AI for your business, you can improve your delivery time and get the products to the customer's doorstep in real time.
Theft detection can be done with the help of machine learning systems that will ensure running the operations smoothly. AI will inform the logistics about the safer routes to take their fleet to avoid theft risks.
With the help of AI, customer service will improve. Also, businesses can maintain the quality of the products and fulfill the order quickly.
AI innovation will help accurate inventory management by ensuring products enter and exit the warehouse properly. The inventory-related processing, picking, and packaging can become time-consuming and full of errors. Inventory management will help avoid overstocking, stockouts, and fulfilling insufficient stocks.
Leverage the Power of AI to Streamline the Logistics and Transport Industry!
Artificial Intelligence is already deep-seated into logistics operations, clear from the above-provided top AI use cases in the logistics industry. It is helping in simplifying and accelerating critical logistics and transport operations. The efficiency of the operations improves, and businesses can predict the demands without any wastage and unnecessary expenses.
BoTree Technologies helps optimize the workflows and conversion of data into valuable insights. Our logistics solutions help businesses ensure real-time tracking of inventory and shipments.
Contact BoTree Technologies today for effective Logistics solutions!!